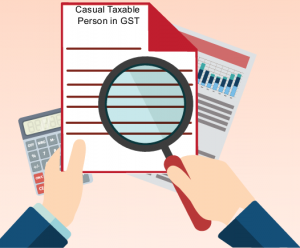 1. Meaning of Casual Taxable Person:
"Casual taxable person" means a person who occasionally undertakes transactions involving supply of goods or services or both in the course or furtherance of business, whether as principal, agent or in any other capacity, in a State or a Union territory where he has no fixed place of business.
2. Threshold limit for GST Registration:
A casual taxable person making taxable supply in India has to compulsorily take registration. There is no threshold limit for registration.
3. Application for Registration:
There is no special form to register as a casual taxable person. The normal form GST REG-01 which is used by other taxable persons can be used for registration by casual taxable person. Causal Taxable person has to apply for registration at least five days prior to commencing his business in India.
4. Deposit of Tax:
A casual taxable person has to make an advance deposit of tax in an amount equivalent to his estimated tax liability for the period for which the registration is sought.
5. Period of Validity of Registration Certificate:
The certificate of registration shall be valid for the period specified in the application for registration or 90 days from the effective date of registration, whichever is earlier.
6. Returns:
The casual taxable person is required to furnish the following returns electronically through the common portal,:
a) FORM GSTR-1
b) FORM GSTR-3B
7. Refund by Casual taxable person:
The casual taxable person is eligible for the refund of any balance of the advance tax deposited by him after adjusting his tax liability. The balance advance tax deposit can be refunded only after all the returns have been furnished, in respect of the entire period for which the certificate of registration was granted to him had remained in force.
We are Expertise in GST. We are one of the best GST consultant in Faridabad, GST consultant in Delhi, GST consultant in Gurugram..We are Expertise in Income tax. Our Consultant is fully proficient in Income tax. We are one of the best Income tax consultants in Faridabad, Income tax consultant in Delhi, Income tax consultant in Gurugram. We are one of the best CA in faridabad, CA in Gurugram, CA in Delhi. We have Expertise in Accounting Services, Payroll Accounting, Consolidated Balance Sheet, Transfer Pricing, International Taxation, Domestic Taxation, Forensic Audit, Internal Audit, Statutory Audit.