About Private Limited Company
Registration of private limited company is common in India. Every time when we start a business, we think about the company registration in Gurgaon or Faridabad. Company formation in gurgaon or faridabad is an easy process, and it takes 7-10 days, provided all information and documents are complete. To register a private limited company, the minimum requirements are: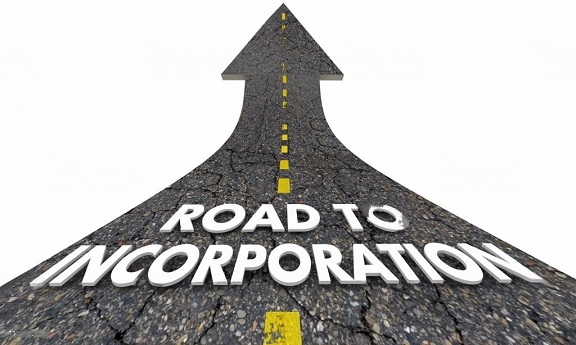 Registered Office: Registered office of the company should be in India. You can call it, where all the notices and information from the government authorities are communicated.
Minimum Directors: There should be at least 2 directors and 1 should be an Indian national and resident of India.
Minimum Shareholders: 2 Shareholders are required. Directors can be a shareholder of the company.
A Private Limited company is a company held by founders privately in which no public money is allowed to invest in. A private limited company is a separate legal entity and its rights, obligations, assets and liabilities are separate from its members/shareholders. In India, Startups prefer to incorporate private limited companies because it is easy for them to receive money in the company and issue equity shares, preference shares and non-convertible debentures. Investor including Angel Investors and Venture Capitalists also prefer to invest in private limited companies. Hence incorporation of private limited companies for businesses like Startups becomes a necessity.
Benefits of Private Limited Company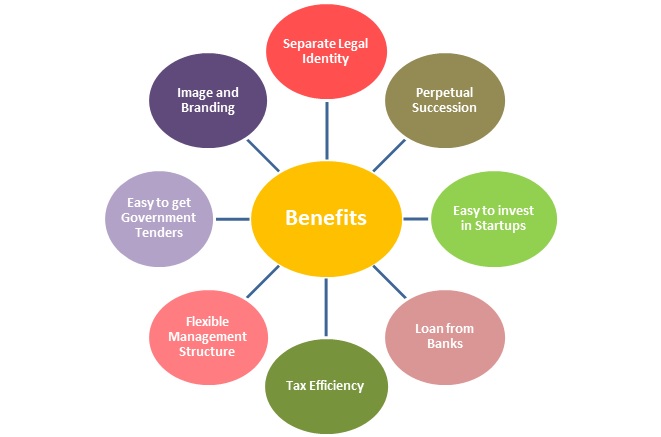 These are a few illustrative lists of benefits. We have covered some of the key benefits for you:
Separate legal identity: The liability of shareholders is limited and it is separate from the company, because the company has its own separate legal identity.
Perpetual succession: The company has perpetual succession means that the death of any shareholder or director does not affect the existence of the company.
Easy to invest in Startups: The startup can easily raise funds from investors in the private limited company. Even investors prefer to invest in a private limited company over LLP registration in gurgaon or faridabad and One person company.
Loan from Banks: Company has its separate legal identity so it can raise funds from the banks and NBFC in its own name.
Tax efficiency: The income tax rates are 15%/22%/25% for the private limited company as compared to LLP registration in gurgaon or faridabad and Partnership firms where the income tax rate is 30%.
Flexible management structure: In a private limited company it is easy to appoint and resign a director/Management personnel from the company.
Easy to get government tenders: Government tender's primary requirement is that the applicant should be a private limited company. Mainly all tenders are allotted to private limited companies and registered LLP and Partnership firms are ignored in some tenders.
Image and Branding: The name of the company is in itself a brand, however, you can give a brand name to your company which may be different from the name of the company.
Process of Private Limited company Registration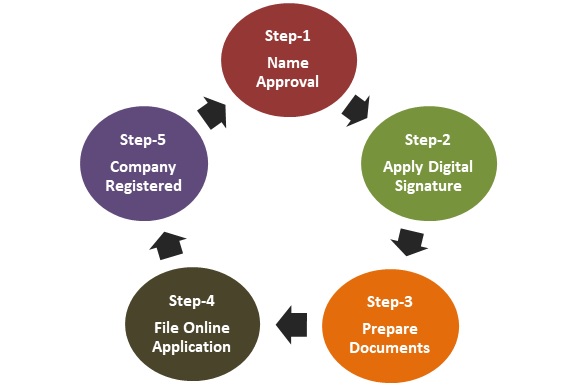 Below are the explanations for the above-mentioned process diagram:
Step-1: Name application is made with the registrar of company, where the application form for approval of the name is filed.
Step-2: After the approval of the name, digital signatures are applied for the subscriber of memorandum and articles. These digital signatures are used to sign incorporation forms.
Step-3: Under this step, all documents relating to incorporation are drafted and prepared.
Step-4: When all documents are ready, it should be filed with applicable forms as mentioned earlier.
Step-5: The registrar of company after reviewing the application, approves the application and issues the registration certificate.
Forms to be filed for Registration of Private Limited Company:
Spice+ (Form-INC32): Simplified Proforma for Incorporating Company Electronically Plus is a web-based form, filed for registration of company
MOA (Form-INC 33): Memorandum of association represents the charter of the company. It is a legal document, which is filed with the incorporation documents for company registration in Gurgaon or Faridabad. It also contains the subscribers and share capital details.
AOA (Form No 34): It is referred to as Article of Association. It defines the rules and regulations of the company under which a company, directors, and shareholders must perform.
Agile Pro (Form INC-35): This form is filed for an application for

Goods and Service tax Identification number,
employee state insurance corporation registration,
employees provident fund organization registration,
Profession tax registration,
Opening of Bank account and Shops and Establishment Registration

Form – INC-9: Declaration by Subscribers and first directors are filed using this form.
Checklist of documents for Registration of Private Limited Company
Name of the company (subject to approval)
Nature of Business of the company
Objective of the company
Proof of Registered Address:

Copy of latest Utility Bill (Should not be more than 2 months)
NOC from the property owner
Notarized Rent Agreement (if office is rented)
Copy of sale deed ( in case property is owned)

Shareholders/ Promoters Details

Name of Shareholders
Number of shares subscribed
Face Value per share

Details of proposed director

DIN of the director (if already allotted)
Fathers Name
Phone No and Email address
Copy of Aadhar and PAN card
Date of Birth
Place of Birth
Period of stay of director at present address
Qualification
Bank Statement (Three months)
Proof of Permanent Address
Proof of Current Address
Documents you get after incorporation
DIN for 2 Directors
Digital Signature for 2 subscribers
Incorporation certificate
Share certificates
MOA+AOA
Provident fund and ESI registration certificates
PAN card of company
TAN number of company
Document support for opening Bank account
You can contact us at mail@nbaoffice.com, if you are looking for a CA in Gurgaon or Faridabad, for company registration and formation in gurgaon or faridabad. Our team of experts will assist you in company incorporation and you will get satisfactory services from our professional experts.